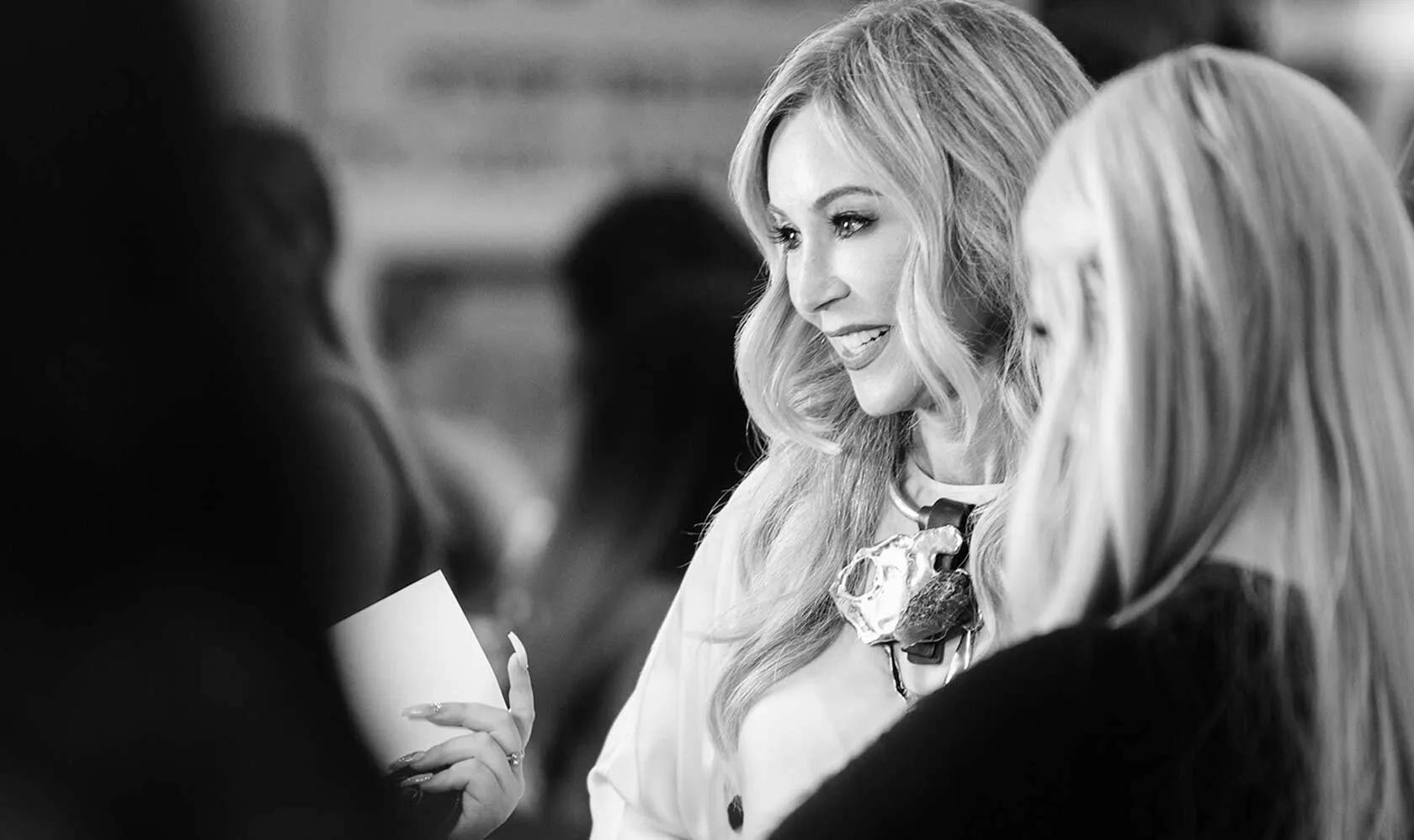 Anastasia Soare, who is now 65 years old, launched the salon Anastasia Beverly Hills in 1998. Since then, she has shaped the brows of clientele such as Cindy Crawford and Naomi Campbell using a method that has since become her hallmark. In 2018, the private-equity company TPG Capital acquired approximately 38% of the company's shares, which resulted in the business being valued at approximately $2.5 billion. Her enterprise is comprised of both the salon and a cosmetic brand. She is still in charge of shaping the eyebrows of some of the most well-known people in the world, including Kim Kardashian's, Michelle Obama's, and Oprah Winfrey's.
Ms. Anastasia Soare spent her childhood in Romania and moved to the United States when she was 32 years old. She has one daughter, Claudia, who is currently serving as the president of her company. She resides in the greater Los Angeles area. In this clip, she discusses her skin care routine, the A-lister whose brows she'd love to groom, and the question of whether or not the fad of having no eyebrows will catch on.
On the beauty mistake that changed the trajectory of her life:  "In pictures, I looked surprised all the time, realizing the shape wasn't flattering changed her life, she said, and she wanted to help enlighten other women. 
Talking to WSJ about the time she wakes up on Mondays and the first thing she does: Every day, I wake up at 7:30 a.m. The first thing I do is make my espresso, no sugar. I have two long espressos in the morning. Second thing, I get in bed and I start checking my emails, my Instagram, trying to think what I'm going to post that day.
Anastasia and her daughter Claudia immigrated to the United States in 1989 and settled in Los Angeles. She was unable to speak English, she had to move from a large house in Constanta into a more compact apartment in the valley, and she yearned for the company of her close-knit family. According to her, the first half year was an extremely challenging time. On her beauty routine Anastasia adds for WSJ: I start with toothpaste. I use a natural toothpaste, and sometimes I do baking soda with peroxide to clean the gums. I don't go to bed without preparing my skin. In the morning, I use a toner and several creams: eye cream, face cream, a serum, vitamin C Skinceuticals. I use Barbara Sturm, I use Biologique Recherche. And then I have some devices that will penetrate the skin even more. I use sunblock at the end. Then I start doing makeup.
On people's biggest misconception about eyebrows:  Even if you have somebody, an idol, who you admire, doesn't mean you can have the same eyebrows. We are all different—different bone structure, different natural eyebrows.
On her biggest beauty mistakes growing up: I grew up in Romania. We couldn't go into department stores to buy makeup. So my mother used to have a painter who painted our house. He used to mix his own colors. He used to get raw material, and I was fascinated by his work. He used to mix blue and green and put a little shimmer in—and that was my eye shadow. It was a loose pigment. I don't know how healthy that was, but I'm still not blind! 
In the beginning of her career in the beauty industry, she worked at the Giovanna-Jutta salon in Beverly Hills. There, she was in charge of facial and body waxing services. But she quickly became aware of a glaring hole in the market: nobody was concerned about the appearance of their eyebrows. Anastasia took matters into her own hands and secured a tiny room in another local salon in 1992. It was in this space that she developed her signature technique, which was derived from Leonardo da Vinci's use of the Golden Ratio. After failing to convince her boss to let her launch a brow service at the salon, Anastasia tried (and failed) to convince her boss to let her launch a brow service at the salon.
The end result was a method of sculpting eyebrows that was customized to the bone structure of each individual customer as well as their natural arch (or lack thereof). It was successful, and she went on to shape the brows of all the supermodels by plucking and waxing them. Her reputation could only go up from there. Talking about which historical figure has the best brows – an eyebrow idol Anastasia Soare shares with WSJ:  If you look to the '50s—Sophia Loren, Marilyn Monroe, Ava Gardner—they had the most gorgeous eyebrows. Thick, beautiful, really gorgeous eyebrows. Before that, if you go into the '20s and '30s, you see Marlene Dietrich who had super-thin eyebrows, because that was the style. It made her look more mature than she was. That pencil-thin didn't work then, it doesn't work today. 

Anastasia Soare shares what men get wrong about eyebrows: Some of the men shave and the razorblade is too wide, so they shave too much. The space for men should be smaller, because they have stronger noses and smaller brow bones. If the eyebrows are too far apart, it doesn't look good.
After another five years, Anastasia opened her namesake salon on Bedford Drive. Two years later, in 1998, she also began selling products to go along with her services. The following year, she was invited to appear on The Oprah Winfrey Show to shape the eyebrows of the iconic talk show icon Oprah Winfrey in front of a live audience, which propelled brow shaping to the forefront of the national consciousness. Since then, Anastasia has been responsible for maintaining the eyebrows of numerous famous people, including the Kardashians, Jennifer Lopez, Penelope Cruz, Victoria Beckham, Eva Longoria, and many others. Her enterprise has developed into a comprehensive beauty brand, and she currently owns and manages salons all over the world, including in Beverly Hills, Tokyo, and her home country of Romania. On whether there is anyone who isn't a current client that she would love to work with: Maybe George Clooney. He's so handsome, but if you clean a little bit, it opens the eyes a little more. 
On the no-eyebrow trend: Those are trends for social media. There are so many ways to do that without over-tweezing your eyebrows and without bleaching. Once you tweeze your eyebrows, it probably will not come back as full as it was before.
On what part of her business she refuses to delegate: I still write the checks. I like to do that. I read all the invoices. I want to understand exactly how we spend the money. 

Anastasia Soare on the one piece of advice that's guided her:  Seeing my mother running her [tailoring] business on her own, it was probably the best lesson that I ever could learn. She will not take no as an answer and she will not give up. Being able to change and to not look back and find ways in life to make things work, I think that's something that is very important because a lot of people are resistant to change. You have to go forward and don't take no as an answer. That's her best advice.
Read the whole interview with Anastasia Soare on WSJ.