Actress Kristen Stewart stars in the ÉQUINOXE DE CHANEL Fall Winter 2023 makeup campaign captured by fashion photographer Sølve Sundsbø. in charge of beauty were hair stylist Adir Abergel, makeup artist Ammy Drammeh, and manicurist Alexandra Janowski.
Gabrielle Chanel, the legendary founder of the CHANEL brand, held a deep admiration for the fall season. For her, autumn was a canvas of creativity, inspiring her to conjure iconic fabric pieces like velvet and tweed. The rich tones and textures of fall were perfectly captured in her cozy knits and sweaters, boasting robust and regal colors. Drawing inspiration from the same seasonal charm, the CHANEL Makeup Creation Studio has curated the Fall-Winter 2023 makeup collection.
As autumn envelops nature undergoes a breathtaking transformation. Trees are adorned with a vibrant palette of red-orange hues, and the ochre tones of gardens and parks shimmer in the dimming light. The equinox, a transient period when daylight equals nighttime, signifies the end of a summer and the onset of a rejuvenating cycle.
Ombre Première Libre is a standout from the collection, this limited-edition eyeshadow is designed with an ethereal, powdery texture. Six naturally warm shades, from hazelnut and walnut brown to burnt sienna and a shimmering orangey copper, redefine autumnal beauty. The shadow's satin finish ensures longevity and can transition from subtle day looks to sultry evening glam effortlessly. The elegant glass bottle design, showcasing a mysterious black gradient, further elevates the product's luxurious appeal.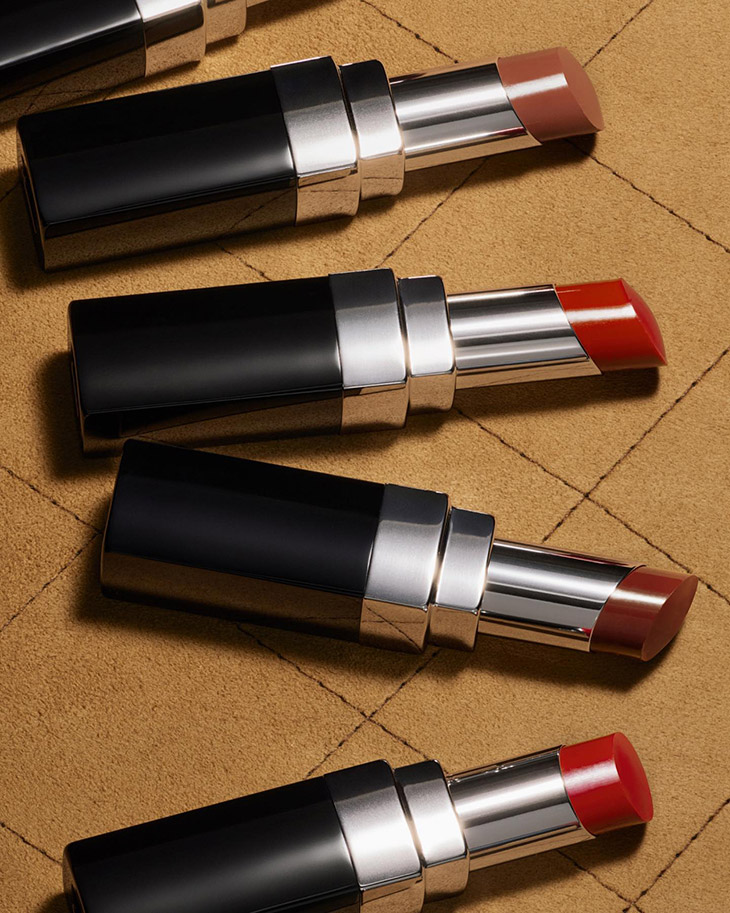 Duos Of Lights, Douceur D'équinoxe blushes infuse cheeks with a blend of vivid and refined hues, bestowing the skin with a radiant, subtle luminosity. Drawing inspiration from the changing shades of nature and its autumnal leaves, every blush features an intricately pressed leaf motif entwined with the iconic double C emblem. These elements harmonize gracefully across the powder's surface. The understated coral and beige spectrum imparts a complexion-warming burst of vitality, while the combination of rosy beige and mauve produces a gentle, natural radiance, akin to the glow of well-being.
Playful contrasts taking sophistication a notch higher, the Makeup Creation Studio unveils six new shades of the ultra-moisturizing Rouge Coco Bloom lipstick and two corresponding shades of Le Vernis nail polish. The lip color, rich in natural waxes and oils, promises intense pigment and enduring wear. Palettes range from luminous corals to deep rosewood shades, invigorating the face with a pop of color. Complementing this, Le Vernis introduces two vibrant shades, a sunny orange and a sophisticated red-brown, capturing the essence of transitioning seasons.
The ÉQUINOXE DE CHANEL makeup collection encapsulates the paradox of the autumn season: vibrant yet muted, fiery yet gentle, symbolizing the grand spectacle of an Indian summer's conclusion.