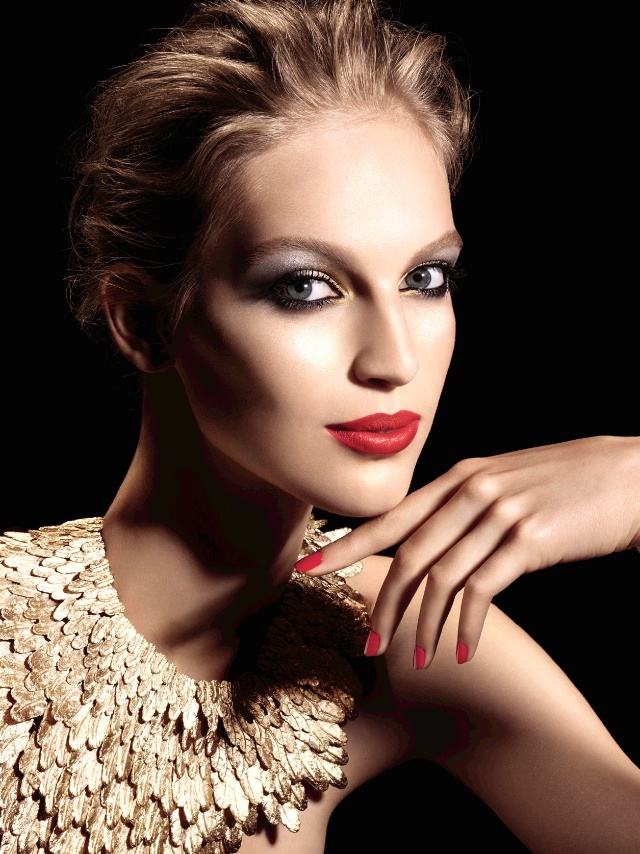 What is lighter than a feather? A cloud of powder, a fleck of gold dust. And even lighter still is the spirit of a festive evening. Graceful and feminine, the feather floats through the world of Chanel landing on a brooch, a fancy cape, an evening gown. The Chanel Makeup Creation Studio has drawn inspiration from the feather's wispy softness for a collection filled with subtle shades, embellished with gold and silver. Stunning evening makeup, like jewelry made of feathers and diamonds.
Les 5 Ombres in Oiseau de Nuit ($70.00)
Five timeless and precious shades form a surprising palette due to the range of makeup looks they inspire. A silvery white, an antique gold, a duo of greys and a soft charcoal blend together to create a tender or sculpted look.
Illusion d'Ombre Eyeshadow ($38.00)
Stylo Yeux Waterproof ($30.00)
Camélia de Plumes Powder in Platine ($76.00)
As an absolute mark of luxury and fantasy, the feature has inspired a light and refined illuminating powder with precious shimmers blended in a platinum shade.
Joues Contraste Blush ($48.00)
Caresse: Soft and neutral peach with silver pearl
Rouge Allure Lipstick ($40.00)
Volage: Fresh, peachy pink
Rouge Allure Velvet Lipstick ($40.00)
La Flamboyante: Fiery red
Le Vernis ($29.00)
Available November 3, 2014 on Chanel counters and online