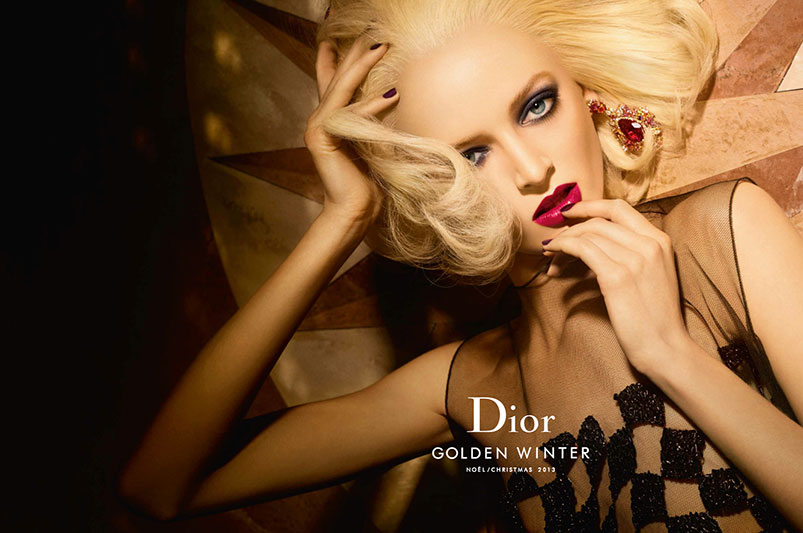 The house of Dior is launching its Golden Winter 2013 Makeup Collection for the Holiday season. The  Collection will be available online at Dior.com as well as on counters from October 30th,2013.
The Dior Golden Winter Holiday Color Collection is inspired by Versailles at the heart of winter. The collection is based around shades of pink and gold, which have been among the most emblematic codes of the House of Dior since the first couture collection in 1947. Today, the tradition continues with Raf Simons, whose current creations feature gorgeous combinations of pink and gold.
The History of Dior and Versailles:
The ultimate refinement of Versailles court art de vivre and the castle's magnificent adornments deeply influenced Christian Dior's creations both in aesthetics and structure. Dior was particularly influenced by the golden era of Versailles fashion, which celebrated femininity with its ornate fabrics and structured dresses that enhanced the waist. This holiday, the splendor of Versailles shines on in the Dior makeup collection, which draws inspiration from images of the iconic palace and its gardens covered in snow.
The Look:
Eyes are dressed in sparkling hues of white, yellow and rose golds while lips are highlighted in sparkling fuchsia, vibrant red, and a rich burgundy. Nails complete the look in rosy taupe, red and golden plum.
Star Product: Diorific Jewel Manicure Duo
Inspired by the magnificent adornments of Versailles, the Diorific Jewel Manicure Duo combines two versions of Diorific Vernis: a sumptuous gold lacquer to apply as a base and luminous crystal micro-pearls to sprinkle on top for a three-dimensional result.
The Ad Campaign for the Dior Golden Winter 2013 Makeup Collection features beautiful Daria Strokous. The campaign is shot by Fashion photographer Steven Meisel.
The collection includes :
Diorific Powder Blush – Limited Edition
Dior Blush – Limited Edition
Diorific Lipstick – Limited Edition
Diva – ruby red
Etoile – frosted beige
Joy – wood glossy pink
Royale – rose gold
Winter – brown raspberry
Midnight (Minuit) – fuchsia
Dior Addict Gloss – Limited Edition
Enchanted Rose
Pink Fantasy
Diorific Nail Lacquer – Limited Edition
Winter – milky pink gold
Marylin – ruby red
Royale – pure fuchsia
Midnight (Minuit) – vibrant plum
Dior 5 Couleurs Eye Palette – Limited Edition – $60.00