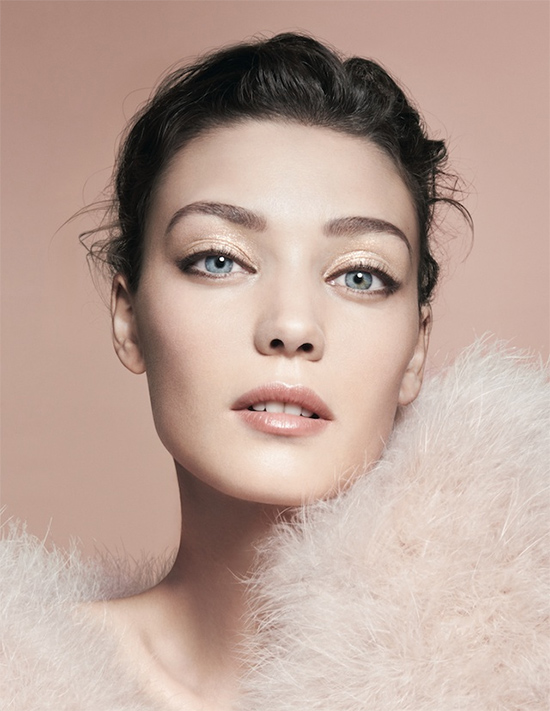 The Giorgio Armani Privé Fall Winter 2013/2014 Paris show marked the return of a central theme in the Maestro's work: Nude. More than just a shade, the make-up look interpreted by Linda Cantello for "Nudo" is an evanescent color philosophy that goes back to 30s elegance with a touch of Hollywood glamour. After introducing it in fashion and cosmetics, Giorgio Armani now innovates with a "peau d'ange" nude, translucent, luminous, feminine and glamorous, reinvented in modern romanticism.
EFFETTO NUDO unveils this neo-nude by Armani… shimmering with elusive shades. The Maestro alone holds their secret. A subtle balance of undefinable tones between shade and light, cold and warm.
Belladonna Highlighter Palette ($88.00) (Limited Edition)
The emblematic EFFETTO NUDO palette is an unprecedented, universal illuminating powder. Its shade and texture deliver pure, nude, virtually bare light, for an evanescent "peau d'ange" effect of infinite finesse. The powder features micropearl technology, printed in an ultra fine flower pattern. The new gel-based formula is prepared using a cold-cast technique and melds immediately with its case, for a feel between powder and cream. A texture that is both dense and incredibly light. The pattern designed in the powder is inspired by a flower with light, subtle petals, like romantic, feminine, enigmatic tulle fabric. The powder is applied to the face and décolleté or as an eyeshadow. Linda Cantello used it in the "Nudo" show to halo the eyes with soft, velvety light.
Fluid Sheer in Sculpting Light ($62.00) (Limited Edition)
The Giorgio Armani Beauty innovation Fluid Sheer Radiant Pigment, enriched with kaleidoscopic pearls, is used to enhance the complexion on the cheekbones, or to blend with foundation for a warmed and radiant complexion or as an eyeshadow primer. The color effect travels from pink to gold depending on the angle of the light, for a sculpting, luminous effect. The new shade #13 is translucent and universal, bringing to the complexion a soft, delicately pink radiance and a healthy glow.
Smooth Silk Eye Pencil ($29.00)
Like the black feather necklace seen at the Armani Privé show, Smooth Silk Eye Pencils contrasts to magnify the Effetto Nudo. The navy blue (#1), chestnut (#10) and brown (#11) accentuate the NUDO effect by playing on contrasts. Their lines structure this evanescent make-up look.
#1 Navy blue (Limited Edition)
#10 Chestnut (Limited Edition)
#11 Brown (Limited Edition)
Flash Lacquer ($29.00)
#314 Coral (Limited Edition)
#514 Pink (Limited Edition)
#614 Plum (Limited Edition)
Rouge d'Armani Sheer ($32.00)
#314 Coral (Limited Edition)
#514 Pink (Limited Edition)
#614 Plum (Limited Edition)
The collection will be available online and at Giorgio Armani counters from January 2014.