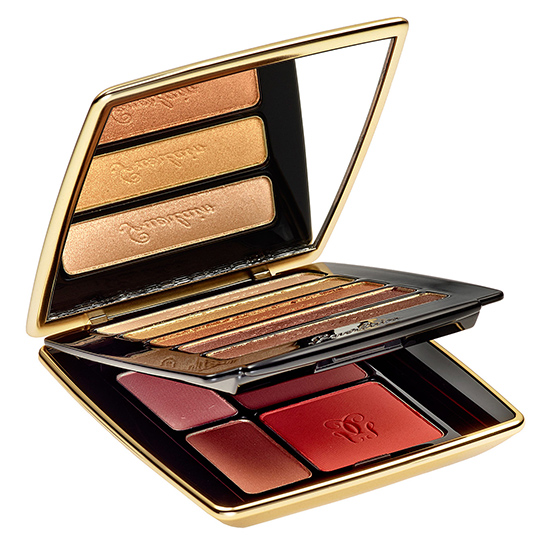 A night at the Opera is a night of celebration. Guerlain's 2014 holiday collection rejoices in the radiance and beauty of this magical experience while paying homage to its classic Coque d'Or perfume. First launched in 1937, Jacques Guerlain created Coque d'Or as a tribute to the opera as well as to his friend Diaghilev, the founder of the Russian Ballet.
Coque d'Or's sensual breathtaking bottle was comprised of dark blue Baccarat crystal and finished with a thin golden layer. It drew its shape from the bow, worn by men on gala evenings and in the ballerinas' hair. According to the legend, this ribbon offers the secret of grace and eternal seduction to those who possess it.
Coque d'Or Perfumed Shimmer Powder ($95.00) (Limited Edition)
A magical light-as-air loose powder surorunds the skin and hair in a silky halo of a golden shimmer, softly illuminating hair, face, shoulders, and the top of the decolette. A mere press of the bulb releases the powder, leaving the captivating Coque d'Or aroma in its wake, a chypre composition based on bergamot, rose, jasmine, and patchouli.
Petrouchka Palette for Eyes & Cheek ($90.00) (Limited Edition)
Illuminate the eyes and add warmth to the complexion with this Petrouchka Palette. Perfect for touch-ups, it features eye and blush applicators and five shades of sheer iridescent eye shadows—from champagne to coppery brown—for brightening up the eyes. The four matte and iridescent blushes may be worn alone or layered together: the fresh pink and coral shades revive the cheeks, while the rosewood and brown shades perfectly sculpt the cheeks.
Meteorites Perles d'Etoiles Illuminating Pearls ($60.00) (Limited Edition)
The subtle pearly finish of the 6 Meteorites shades, ranging from matte beeige to iridescent pink, veil the complexion in a luminous radiance. The holiday edition reimagines this cult-classic product in an all gold design, featuring the famous Coque d'Or red bow and a matching red powder puff.
Rouge G de Guerlain ($54.00) (Limited Edition)
For holiday, Rouge G reinvents itself in a festive red lacquer for this limited edition collection.
820 Rouge Parade

Luminous red (Limited Edition)
Gloss d'Enfer Maxi Shine Lipgloss ($30.00) (Limited Edition)
901 L'Oiseau de Feau

Sheer top coat with golden pearl

920 Rouge Paradie

Deep black cherry
Ecrin 2 Couleurs Eyeshadow ($44.00) (Limited Edition)
10 Cygne Noir Shimmering silver black with a deeply pigmented plum
11 Cygne Blanc

Silvery ballerina pink with frosted white
Le Vernis Nail Lacquer ($25.00) (Limited Edition)
400 Coque d'Or

Metallic shimmering gold

901 L'Oiseau de Feu

Decorative gold leaf effect
Available from October 2014.