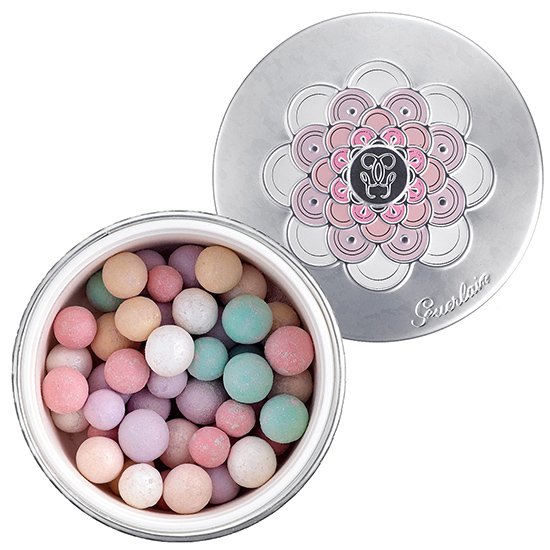 Guerlain's Spring 2014 Meteorites Blossom collection celebrates the reinvention of the legendary Météorites Pearls, whose light-diffusing properties minimize flaws and add brightness to the skin. More than 25 years after its invention, Météorites Pearls emerges with new constellations of colors to revive light and boost radiance. For the first time ever, Météorites Pearls incorporates Guerlain's new, revolutionary ―Stardust Technology, a spherical pigment contained within each pearl. This formulation diffracts light upon contact to offer the ultimate in luminous skin. Météorites Blossom celebrates this revolutionary technology, as well as the romantic colors of the new constellations, through images of light and infinite radiance.
Météorites Pearls ($60.00) (New, Permanent)
Each shade of Météorites Pearls begins with the same legendary combination of 3 colors which adapt to every skin tone and collectively work to beautify skin: mauve catches the light, pink refreshes and yellow counters dullness and corrects redness. These delicate and perfectly round pearls continue to be shaped by hand, with craftsmanship mastered by only 4 people in the world. Softer than ever, the new pearls allow for an even easier application and a more visible effect with every brushstroke. These precious pearls are contained in a beautiful metal tin, now marked with a new emblem of a reinterpreted rosette created with a light gradation of pink.
02 Clair A harmony of green pearls for extra redness correction, white pearls to reflect the light and champagne pearls to adapt to the skin and gently illuminate it
03 Medium A nude harmony containing beige and champagne pearls to naturally reflect light and even the complexion, combined with peach pearls to add a unique glow to the skin
04 Doré The most smoldering harmony, this shade incorporates chocolate pearls with satin shimmers and vivifying fuchsia pearls that revive radiance and unifying beige pearls for deliciously beautiful skin
Météorites Brush ($42.00)
The stunning natural pink bristles of the Météorites brush are longer and softer, perfectly complimenting the new pearls. This luxurious brush sweeps lightly over Météorites Pearls taking only the exact quantity of powder required. The pure white handle is a promise of luminosity.
Météorites Blush ($42.00) (New, Limited Edition)
Guerlain's new cream blushes melt instantly into the skin, leaving a satiny finish with a delicate violet scent. Available in 2 shades, a cheerful fuchsia and delicate pink, Météorites blush comes encapsulated in a perfectly round white and silver case, paying homage to the Météorites bubble.
Pink (01) Delicate pink (Limited Edition)
Cherry (02) Cheerful fuchsia (Limited Edition)
Gloss d'Enfer ($30.00)
Like the reinvented Météorites, the limited-edition spring lip gloss and nail lacquer shade capture the brilliance of stardust. Like a magically iridescent ray of pure light, the season's new nail enamel and gloss shine with a surreal glow. Lips and nails dazzle with one application! As top coats they work to enhance color, adding a diamond shine.
Star Dust (862) Iridescent ray of pure light (Limited Edition)
Le Vernis ($25.00)
Star Dust (900) Iridescent ray of pure light (Limited Edition)
Ecrin 2 Duo Eyeshadow ($44.00)
Guerlain's new duo eye shadow is the perfect accessory for creating statement looks. Inside the slender gold case are 2 stunning colors—one a pure color and one a luminous veil. For Spring 2014, Guerlain introduces its newest shade: a dazzling violet underscored by an elegant taupe.
Two V.I.P. (09) Dazzling violet / elegant taupe (Limited Edition)
Rouge Automatique ($35.00)
Guerlain's Rouge Automatique provides hydration and long-lasting color with one simple movement. With a push of the lever, luminous color with a second-skin texture is revealed from within a chic Art Deco cylinder.
Attrape Coeur (171) Spicy, cheerful pink (Limited Edition)
Insolence (144) Vibrant fuchsia (Limited Edition)
Eyebrow Kit ($52.00) (New, Permanent)
The indispensable finishing touch for radiant eyes, Guerlain's new Eyebrow Kit structures and styles all eyebrows for a tailored yet natural look. Light, medium and dark powder shades can be mixed and blended to create a matching shade for every brow line, while the pearly-pink beige highlighter is swept under the brows to emphasis the eyes' natural beauty. The kit also contains a double-sided applicator, making it a complete eyebrow kit for any look or occasion.
Universel (001) Light, medium, dark
Maxi Lash Mascara ($30.00)
Guerlain's Cils d'Enfer Maxi Lash Mascara guarantees gorgeous eyes every time. Simple to use, easy and flattering, a combination of 3 polymers volumizes, lengthens and strengthens for captivating eyes. Never clumpy, Maxi Lash can be layered to create just the right volume for each moment. Scented with an ultra-feminine violet fragrance and housed in a beautiful gold case, Maxi Lash is a must-have for enviable lashes.
Moka (03) Brown (New, Permanent)
Ecrin 4 Eyeshadows ($63.00)
Each harmony of Ecrin 4 Couleurs eye shadow is composed of four different and specially selected textures to allow you to mix and match for endless combinations. The newest harmony, Les Tendres, draws inspiration from the season: iridescent ivory, satiny nude and matte violet-plum shades express an ode to nature and renewal, while a metallic aquatic green adds vibrancy.
Les Tendres (503) Iridescent ivory, satiny nude, matte violet plum, aquatic green (Limited Edition)
Available from January 2014