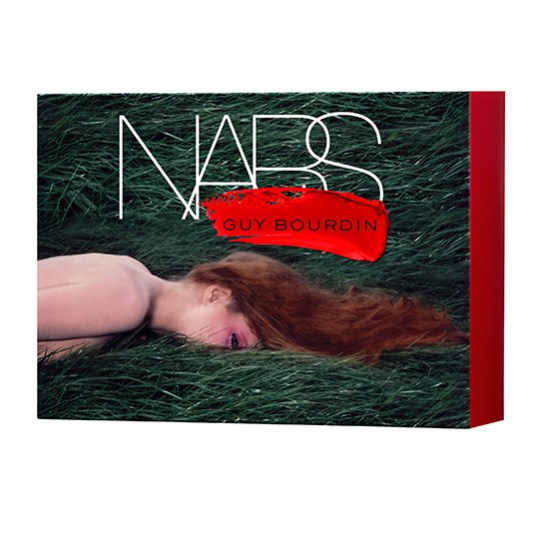 As a child, NARS Founder and Creative Director François Nars discovered Guy Bourdin's work in the pages of French Vogue. It was then that Nars was first inspired to become a makeup artist. Today François Nars honors Bourdin's legacy with an entire limited edition collection for Holiday 2013, created in the spirit of Guy Bourdin: bold, uncompromising color and high-impact finishes in shades that launch us into his intriguing, high-fashion world.
Splendor in the Grass Blush Palette ($49.00) (Limited Edition) (NARScosmetics.com/Boutique Exclusive)
Sex Appeal Matte soft peach
Albatross Luminous glow
Dolce Vita Matte dusty rose
Angelika Cotton candy pink with gold and silver sparkle
Cosmetic Pochette ($75.00)
Makeup bag with black and red heart design.
Fling Lip Set ($49.00) (Limited Edition
Dolce Vita Mini Velvet Matte Lip Pencil Dusty rose
Baroque Mini Velvet Gloss Lip Pencil Raspberry sorbet
Roman Holiday Lipstick Pretty pastel with delicate hint of pink
Damage Lipstick Sheer muted grape
Keepsake Lacquered Lip Case Case
Crime of Passion Set ($59.00) (Limited Edition)
Deep Throat Larger Than Life Lipgloss Shimmering sheer peach (New)
Jezebel Eyeshadow Shimmering sable (New)
Naiade Eyeshadow Metallic rose (New)
Pandora Eyeshadow Rich black matte
Deep Throat Blush Sheer peach
Laguna Bronzing Powder Brown powder with golden shimmer
Voyeur Larger Than Life Long-Wear Eyeliner Set ($49.00) (Limited Edition)
Via Appia Copper brown
Most Wanted Cyan blue (New)
Blue Dahlia Deep violet (New)
Santa Monica Blvd. White
Via Veneto Jet black
Beautiful Stranger Nail Polish Set ($35.00) (Limited Edition)
Lost Red Bright red
Shameless Red Bright pink
Dance Dance Dance Bright purple
Manosque Deep smoky lavender
One Night Stand Blush Palette ($65.00 (Limited Edition) (Sephora Exclusive)
Devotee Highlighting Blush Alabaster glow (New)
Mistinguette Blush Bright pink (New)
Goulue Blush Fleshy pink (New)
Laguna Bronzer Brown powder with golden shimmer
Orgasm Blush Peachy pink with golden shimmer
Deep Throat Blush Sheer peach
Promimscuous Lip Set ($45.00) (Limited Edition) (Sephora Exclusive)
Cruella Mini Velvet Matte Lip Pencil Passionate scarlet red
Sex Machine Mini Velvet Lip Pencil Innocent pink mauve
Dolce Vita Mini Velvet Matte Lip Pencil Dusty rose
Never Say Never Mini Velvet Matte Lip Pencil Pink lilac
New Lover Mini Velvet Gloss Lip Pencil Gold infused strawberry pink
The NARS x Guy Bourdin Gifting Collection will be avaialble in November 2013