In 1963, Diptyque's founders painted an olfactory tapestry for interiors with their scented candles, marking the beginnings of an era where home fragrances became statements of personality and style. Sixty years later, they have once again redefined luxury in the realm of candles. "Les Mondes de Diptyque," a collection of five refilled candles, beckons individuals to immersive olfactory experiences reminiscent of diverse global landscapes.
Taking inspiration from the Maison's classic oval emblem, each candle is shaped like a vibrant colored monolith, created using innovative pressed glass technology. Italian designer Cristina Celestino, renowned for her nature-inspired work, masterminded this new silhouette. Lifting the engraved glass lid unveils a block of specially blended scented wax, designed to be replaced once consumed. In this way, Diptyque's candles transcend from mere aromatic objects to eternal luxurious artifacts.
These fragrant monoliths are portals, transporting you to corners of the world untouched by time. Each scent, crafted by the renowned Olivia Giacobetti, tells the tale of the place it represents.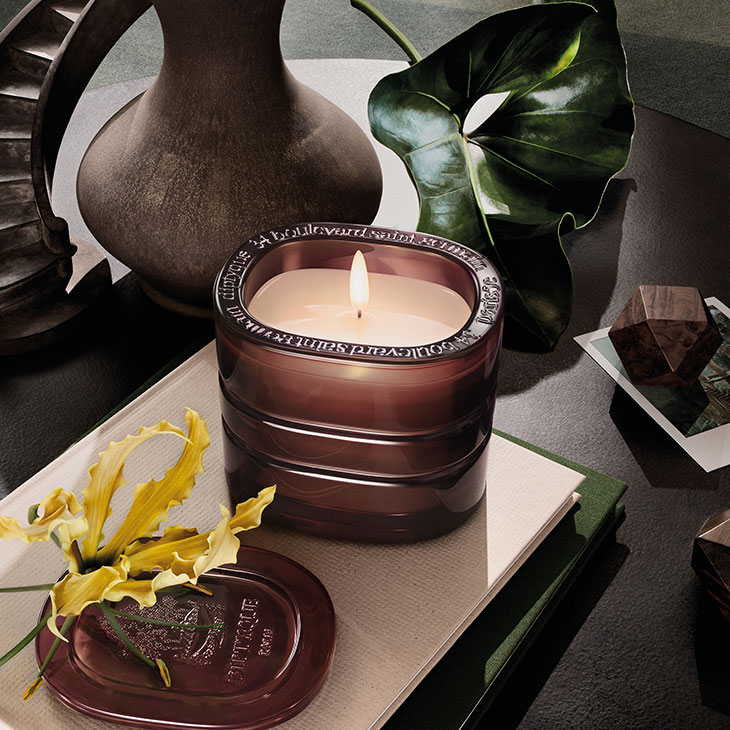 Nymphées Merveilles whisks one to the luxurious gardens of Renaissance-era Villa Borromeo Visconti in Milan. Infused with fresh notes of citrus fruits and orange blossoms, this candle encapsulates the artistry and exuberance of 16th-century Italy.
La Forêt Rêve takes one deep into the heart of Mexico's Las Pozas, an ancient orchid garden transformed into a surreal oasis by English collector Sir Edward James. The notes of tuberose, ylang-ylang, jasmine, vanilla, and galbanum intertwine, reminiscent of the garden's mystic allure.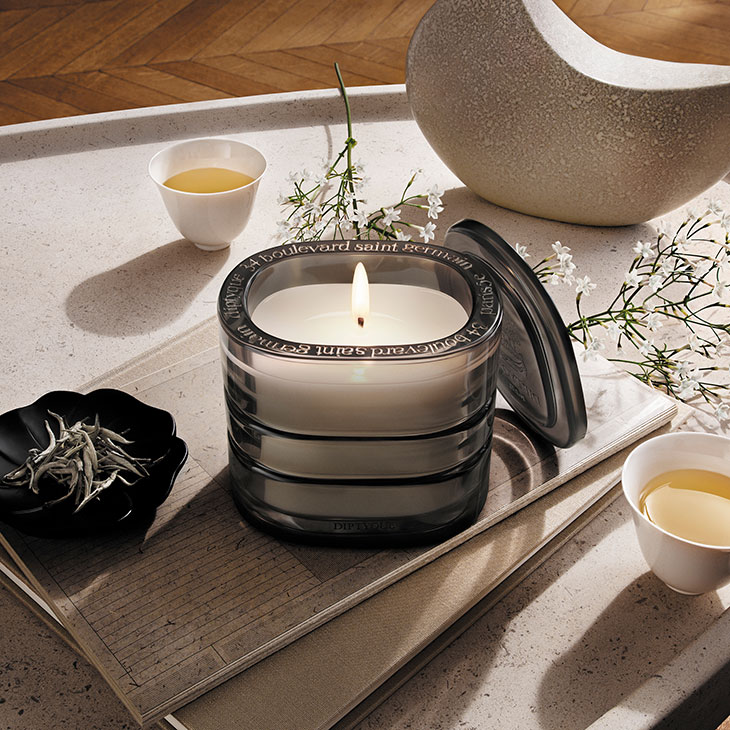 Temple des Mousses transports the senses to Kyoto's zen garden, nestled on the Arashiyama Mountain. Here, an olfactory tapestry of green moss, bark, lichen, and velvety matcha evokes the serenity of Japan's unparalleled natural beauty.
La Vallée du Temps speaks of Jiangxi, China's Jingdezhen — the hub of Chinese porcelain and white tea. Its fragrance tells tales of ancient tea ceremonies, infusing the air with scents of pristine tea.
Terres Blondes takes one on a journey to Colorado's Mesa Verde. Capturing the essence of ancient Native American settlements, the aroma of cereal crops kissed by the golden sun fills the air, echoing the vastness of the American west.
Every aspect of the "Les Mondes de Diptyque" collection has been thoughtfully designed. The textured packaging evokes vintage literature, each candle a chapter in a grand olfactory narrative. Even the ritual of lighting the candle is an experience unto itself, beginning with the perfumed matches and continuing through to the snuffing and wick trimming, courtesy of meticulously crafted accessories.
"Les Mondes de Diptyque" is not just a collection but an experience — an invitation to take endless olfactory voyages without ever leaving the comfort of one's home. Through these candles, Diptyque has captured the essence of the world's beauty, ready to be relived, time and time again.
The prices range from $285 for Refillable Scented Candle and $123 for a Refill.